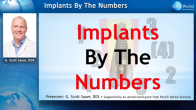 Presenter: G. Scott Sauer, DDS | Provider: Dental Learning Systems, LLC
Commercial Supporter: Pacific Dental Services

CDE CREDITS: 1 Self Study | COST: $0.00 | Sep 8th, 2017 - Sep 30th, 2020
LEARNING OBJECTIVES:
List the important measurements necessary for a functional and esthetic implant restoration.
Discuss the effect each of these measurements has on the resulting restoration.
Accurately communicate necessary implant platform position with the surgeon.
Play Presentation
TAKE THE QUIZ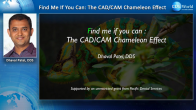 Presenter: Dhaval Patel, DDS | Provider: Dental Learning Systems, LLC
Commercial Supporter: Pacific Dental Services

CDE CREDITS: 1 Self Study | COST: $0.00 | Jul 17th, 2017 - Jul 31st, 2020
LEARNING OBJECTIVES:
Discuss the techniques for making a single unit CAD/CAM restoration blend in with other teeth.
Discuss the preparation techniques, material choices and staining methods for making restorations disappear.
Discuss a wide variety of tips and tricks to choose from based on the needs of each case.
Play Presentation
TAKE THE QUIZ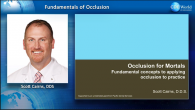 Presenter: Scott Cairns, DDS | Provider: Dental Learning Systems, LLC
Commercial Supporter: Pacific Dental Services

CDE CREDITS: 1 Self Study | COST: $0.00 | Apr 12th, 2017 - Apr 30th, 2020
LEARNING OBJECTIVES:
Categorize and classify a patient based on the examination results of the occlusion and temporomandibular joint
Discuss how to treat patient muscle pain with the use of a single appliance (full coverage flat plane)
Describe the rules for posterior determinants of occlusion to a single tooth or incomplete quadrant dentistry
Play Presentation
TAKE THE QUIZ